'Simply put, bikepacking is the synthesis of mountain biking and minimalist camping; it evokes the freedom of multi-day backcountry hiking, with the range and thrill of riding a mountain bike. It's about forging places less travelled, both near and afar, via singletrack trails, gravel, and abandoned dirt roads, carrying only essential gear. Ride, eat, sleep, repeat, enjoy!' – bikepacking.com
Cutting off the romantics and focussing on gear only,  bikepacking refers primarily to the way of carrying the equipment. Instead utilising panniers and racks, you store your gear in a soft frame bag, seat bag, handlebar roll and in other soft bags strapped to your bike.  This gives you two big benefits. The first benefit is that the weight of you gear can be distributed on the bike so that the bike handles better on trails and rough roads. Secondly, the weight of your carrying system (racks and bags) is minimised.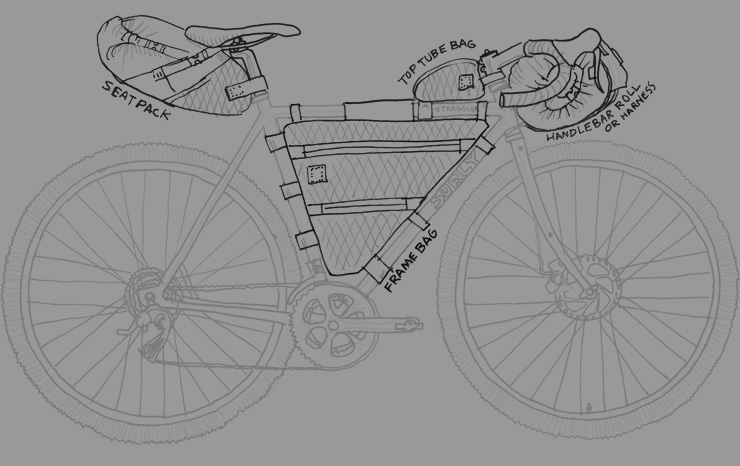 Bikepacking bags. Picture stolen from bikepacking.com. 
The challenge is that you need to figure out what you really need on the specific route you are planning to ride and make all the necessary gear to fit in the bikepacking packs, while still leaving enough capacity for food and water according to the needs of your route. This requires experience – or research. Preferably both. Because bikepacking setups usually have less volume for carrying your gear, you might need to go for lighter gear that packs down smaller too, to make enough room for food and water. Especially on a long distance bike tour and in the winter. Luckily light weight stuff is nowadays widely available and reasonably priced, some gear you can also make by your self. There is plenty of information available on different routes online as well, so you would know precisely where to get food and water, which decreases the need for food and water carrying capacity as well. Your smartphone will tell you also what is the precise distance to the next stock up point.
My current setup is a mix of some lightweight gear, heavy camera equipment and other electronics, and some cold climate essentials. Gear and bikes 12kg. I could call it a soft bag setup or a semi-bikepacking setup as I am still having a front rack and front panniers, in addition to bikepacking bags. I still boldly refuse to carry a backpack on a long distance biketour and swap my narrow drop bars to flat bars in order to have a reckless, more trail capable, setup.
How would you call this thing? 
If you manage to figure out your necessities, you will have a touring setup that could possibly take you comfortably further than before and to places you couldn't go before. Riding would be also more enjoyable and more fun. As a result you will be a happier bike tourer, a bikepacker.
Reality check: Not all the people enjoy travelling with only just the necessities nor are primarily even interested getting off the main road. Replacing beloved and well functioning gear just for the sake of weight and packability is a no-go for many too. There are also those who simply do not mind hauling heavy setup up a mountain and can do what ever trail with what ever setup they happen to have. Some might also find bikepacking bags unpractical as they are somewhat semi-permanently attached to your bike compared to traditional panniers which you can remove somewhat in seconds. Bikepacking might not be for everybody, or they just haven't tried it yet.
Got interested? Find more info on bikepacking.com.